Andy Reid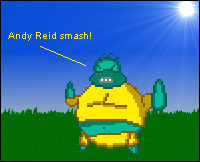 Species : Klinkerpoop
Comics : Project Klinkerpoop
Colors : Yellow, Green
Occupation : Championship-losing NFL Coach, Insurance Salesman, Constipated, Judge, King of Klinker
Tools : Smashing
Location : Project Klinkerpoop
Status : Alive
Fat: Yes
Pronunciation : N/A
Andy Reid, or the Klinker King, is a character in the Multi-author Comic Series Project Klinkerpoop as well as MK Comics. He is a representation of the word Klinkerpoop, meaning "a big, fat, green, constipated monkey." He is also the coach of the Philadelphia Eagles.
History
Klinker King was created and sprited by Metrukuta, the co-creator of RZ Revolutions. He was introduced to the Project Klinkerpoop series in comic 12 by Spitty. His famous catchphrase, "Andy Reid Smash!", was created by Dokuma in Comic 102 as a take on the Hulk's catchphrase. Andy has appeared in almost every Dok comic since, becoming something of a running gag.
Use in Comics
Reid is usually used as a pathetic excuse for an antagonist or plot device, inserted into the storyline to challenge the main characters when no other storyline is taking place. The only exception was when he appeared on the scene as a protagonist to defeat Takomo, who had taken the form of the Lord of the Danimals.
He was also featured as an insurance salesman and a judge.
NFL Coach
Andy Reid has a day job as the coach of the National Football League's Philadelphia Eagles. His entrance into this venue was explained in Nuparurocks' first PK comic.
So far in his career, Andy Reid has taken the Eagles to five National Football Conference championships, and failing miserably in four of them. In the Super Bowl, Andy Reid and Terrell Owens were no match for the great National Football League wide reciever Deion Branch and the New England Patriots, losing 24-21.
External Links
Project Klinkerpoop at BZPower Forums.
Ad blocker interference detected!
Wikia is a free-to-use site that makes money from advertising. We have a modified experience for viewers using ad blockers

Wikia is not accessible if you've made further modifications. Remove the custom ad blocker rule(s) and the page will load as expected.