Arc1110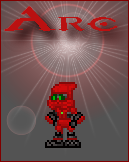 Species : Matoran
Comics : Arc's Comics
Kanohi : Red/Black Great Huna
Colors : Red and Black
Element : Fire
Occupation : Comic Maker, Spriter, and Animator
Tools : Paint, GIMP, Photoshop Elements 7
Location : Unknown; not the Comic Land
Status : Alive
Pronunciation : Ark
Arc1110 is a comic maker and spriter on BZPower, best known currently for his sprite work in the Arc Kit Ex and in his detailed movie-style kit.
He is notorious for abandoning a lot of ideas, and he is currently on a hiatus.
Sprites
Others' Work
Arc1110 is a fan of RZMIK, Xaniskit and the Halo series. He is also scheduled to be a co-author in season 2 of the series The Moron Squad. His signature weapon is his assault rifle.
His sprite bears similarity to Tjm's sprite, with Arc joking about it in a now deleted comics.
His Work
Arc is one of the most popular and acclaimed new spriters, receiving comments from people such as Nuparurocks. He has made a lot of kits and shaded others.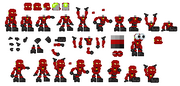 Arc1110 also helped Sylux with his Evolutions Kit and is a PGS in his series XD Comics. He is also a GS in SIMPLICITY.
He has been recognized by a good amount of people, including Johnuva, Oni, Arbiter, and others.
Comic Projects
Overview
Arc's first comic series was Random Randomness, and his most recent position is as co-author for Agents 3.0. He is also a good GIMP user, having made some detailed and professional outside backgrounds.
Current Projects
Ended Projects
Upcoming Projects
Possible Projects
Cancelled Projects
External links
Ad blocker interference detected!
Wikia is a free-to-use site that makes money from advertising. We have a modified experience for viewers using ad blockers

Wikia is not accessible if you've made further modifications. Remove the custom ad blocker rule(s) and the page will load as expected.