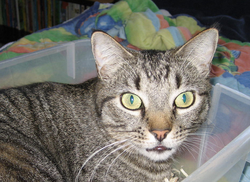 Beasty
is
Eljay's
cat, featured in the comic series
The Lazy Life of a Comic Maker
.
About
Beasty loves to bite and scratch pepole, but he licks them afterwards. He has been lost three times, with one on-screen. He is a gray and black tabby, who is currently in the Comic Land.
Other appearances
Beasty was set to appear in The Newsroom eventually, but it is unlikely that he will appear now, due to its closing and Dlakii and Eljay's feud.
Ad blocker interference detected!
Wikia is a free-to-use site that makes money from advertising. We have a modified experience for viewers using ad blockers

Wikia is not accessible if you've made further modifications. Remove the custom ad blocker rule(s) and the page will load as expected.