Found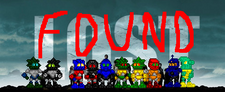 Genre : Castaways / Parody
Started/Maintained By : Dr. Random / Zonis
Current Season : Second
Location/Setting : Remote Tropical / Desert Island
Main Enemies : Various
Starting Date : October 10, 2007
Sprite Kit : RZMIK
Status : Inactive
Found is a multi-author series created by Dr. Random. After he was banned from BZPower, Dr. R gave permission to Zonis to restart it. Much like the way Heroes parodies the popular NBC show of the same name, Found parodies ABC's hit series Lost. It is currently dead.
Authors
Season 2
External links
Ad blocker interference detected!
Wikia is a free-to-use site that makes money from advertising. We have a modified experience for viewers using ad blockers

Wikia is not accessible if you've made further modifications. Remove the custom ad blocker rule(s) and the page will load as expected.