IGat NXT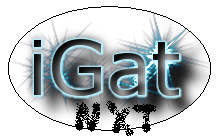 Author(s) : Gatotak
Current Season : One
Medium : Chimoru
Island : Unknown
Main Enemies : N/A
Number of Movies : 0
Started On : September 20, 2009
Location : Studio, Outside
Status : Dead
Pronunciation : N/A
iGat NXT is the long-awaited series by Gatotak. It utilizes Six Shade Chimoru and was released on September 20, 2009. It was closed on December 5, 2009 with its final comic being posted, ending the season and making way for its sequel series, iGat XP scheduled to use Gatotak's custom Chimoru Zeta modification. As of today, it remains simply announced with no news on its progress.
Pre-Production
iGat NXT was originally planned to be the first series utilizing Chimoru Alpha but for unknown reasons the series was greatly delayed and as such many Alpha comics appeared before its completion. Eventually Gatotak returned to planning the series utilizing modified backgrounds from Nuparurocks` Comic Kit and a few other more custom ones. He also planned to have it in Xaniskit, but it didn't happen because of how long it takes him to make their poses.
Characters
Gatotak- The main character of the comics. He is over-confident about improving his looks and has a mole next to his nose.
Hulatrette- The main female who is a gymnastics teacher and likes Gatotak.
Nokopa- The other girl, she is the average 'tough guy' of the comics. Except she's a girl.
Zonrock- The chronicler of Nuvu Nui. Also Gatotak's best friend.
Dekar- The Bionicle's Dekar's twin brother who named himself after his bro. The oddball.
Flydude- Dekar's best friend who has wings, is a Ta-Matoran, and is pretty mysterious...
Onaka- If he wasn't playing Pokemon RPGs all day, he would be inventing stuff.
Tabo- The sugar freak.
Microwave- Your average Toasterbot. Likes popcorn.
Slecht- The main villain.
Larbin- This version of Mr. Zimmwad.
Sombra- Shadow Matoran and female villain.
Kantai- Ko-Matoran with infected mask. Another villain.
PGS List
External links
Ad blocker interference detected!
Wikia is a free-to-use site that makes money from advertising. We have a modified experience for viewers using ad blockers

Wikia is not accessible if you've made further modifications. Remove the custom ad blocker rule(s) and the page will load as expected.