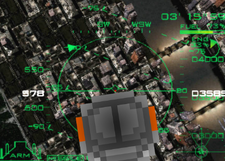 Los Angeles is the largest city in the state of California and the second largest in the United States. Often abbreviated as L.A. and nicknamed The City of Angels, Los Angeles has an estimated population of 3.8 million and spans over 498.3 square miles. Additionally, the Los Angeles metropolitan area is home to nearly 12.9 million residents. Its inhabitants are known as "Angelenos" .
In Generic Quest
Los Angeles is the main setting on Earth in the series Generic Quest. It was the location of one of the Maj Corporation's bases, the landing site of Bionicle Dragon and Nid after they fled the Moon, believed to be the landing site of the Crystal of Eyefourgott, and the location of the brief battle between MAJCORP and the B Team.
After MAJCORP's base in downtown L.A. was bombed by the B Team, a fire started that enveloped a large portion of the inner city. The fire was soon contained and extinguished, having taken quite a toll on the city.
In Other Comics
In The Fourth Wall, Oni was tranported to this city. It is very well guraded by the military.
Ad blocker interference detected!
Wikia is a free-to-use site that makes money from advertising. We have a modified experience for viewers using ad blockers

Wikia is not accessible if you've made further modifications. Remove the custom ad blocker rule(s) and the page will load as expected.