Microsoft Paint

Developed By : Microsoft
Type : Painting/Spriting program, Simple Image Processor
Compatibility : Microsoft Windows
Popularity : Extremely popular for spriting, second behind GIMP for backgrounds
Microsoft Paint, MSPaint, or simply Paint, is an image editing tool included in every Windows package.
It is the most common tool used by comic makers, due to the fact that it is accessible via any Windows operating system. Paint is considered to be the most commonly used and easiest tool for spriting.
Microsoft has generally invested little effort into the application over the years, leaving the program virtually identical from Windows 98 to Vista. Windows 7, however, features a new version of the application designed to fit the now commonplace Ribbon interface first seen in Microsoft Word 2007.
Features
Paint features the following tools:
Free-form select
Select
Eraser
Flood-Fill
Color Picker
Color editing
Magnifier (Zoom In/Zoom Out tool)
Pencil
Brush
Airbrush
Text tool
Line tool
Curved line tool
The following shape tools: rectangle, polygon, ellipse, rounded rectangle.
Flip/rotate
Sketch/skew
Invert
Attributes
Clear Image
Draw Opaque
Recolor (Indirectly)
Paint Vista extra features: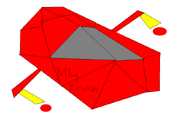 Different toolbar icons
New default color palette
Crop function
Can Undo 10 times
Zoom slider
Paint 7 extra features:
Ribbon UI
Artistic brushes with varying shades of gray and some transparency
More shapes (anti-aliased)
Default format (BMP) has been replaced with PNG
Gallery
Ad blocker interference detected!
Wikia is a free-to-use site that makes money from advertising. We have a modified experience for viewers using ad blockers

Wikia is not accessible if you've made further modifications. Remove the custom ad blocker rule(s) and the page will load as expected.