Mike G.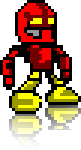 BZPower Status : Inactive Member
BZPower Comics Wiki Status : Not a Member
Number of Posts (BZP) : 715
BZP Occupations : Comic maker, Artist
Commenced Comic Making : August 14, 2003
Number of Comics : 137
Pronunciation : Myke Jee
Location : Unknown
Mike G. was an influential comic maker and artist who joined on August 12, 2003 and is best known for Mike's Comics which were started two days after he joined BZPower.
He changed his name to "Blaah" and was last seen on October 10, 2006.
He was notably friends with long retired but influential comic maker Matreid and appeared as a Guest Star in Matreid's Comics.
Comics
Mike's first and most influential series was started on August 14, 2003 - Mike's Comics. It has influenced many, but has been somewhat forgotten.
Me & Mike
Extremely short-lived series, lasted for only 2 comics.
Another successful series in which Mike teams up with Ghuuna. Lasted for 32 comics.
TV's Comics
By Toa Vollo, however seeing as he was restricted from the art forum, Mike posted them for him. They were of very poor quality.
MNO Comics
Made with Rayg for another BIONICLE forum, which is now long gone.
Mike's "Death"
Mike's death is jokingly hoaxed in the Mike's Comics Season 3 prequel, due to the fact that the Season 2 finale featured a Makuta attacker and ended with a tombstone, however you can see that in fact, it is the Makuta dying (the author points it out), not Mike - therefore the grave belongs to the Makuta.
External links
Ad blocker interference detected!
Wikia is a free-to-use site that makes money from advertising. We have a modified experience for viewers using ad blockers

Wikia is not accessible if you've made further modifications. Remove the custom ad blocker rule(s) and the page will load as expected.