SK Inn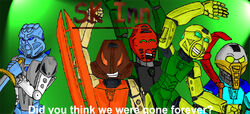 Author(s) : Superkid11, Toa Jetice
Current Season : One
Medium : Chimoru, Flash artwork, Razor (old comics, flashbacks)
Island : The Comic Land
Main Enemies : Unknown
Number of Movies : Zero
Started On : February 16, 2011
Location : Various
Status : Active
Pronunciation : SK-in
SK Inn is a comic series by comic veteran Superkid11, and his first effort at comic making in over 4 years.
Main comics
Edit
The main comics in the series are SK's new works, which utilize a mix of Chimoru Omega sprites and Flash artwork (as well as the use of Razor in flashbacks).
Old comics
Edit
The 'old comics' section of the topic features comics from seasons 1 and 2 of SK's old series; these use the Razor kit. SK also updates some of these comics to make them funnier.
Continuity
Edit
SK Inn is jointly a member of both The Comic Land Continuity and the International ComicContinuity, with events in the comics taking place officially in both continuities.
Reception
Edit
The comics were well-received upon release, and the topic quickly reached multiple pages within a couple of days after their release.
External Links
Edit
Ad blocker interference detected!
Wikia is a free-to-use site that makes money from advertising. We have a modified experience for viewers using ad blockers

Wikia is not accessible if you've made further modifications. Remove the custom ad blocker rule(s) and the page will load as expected.