Sir Kongukopeke of Bobooba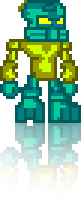 BZPower Status : Member
BZP Comics Wiki Status : Member
Number of Posts (BZP) : 150+
BZP Occupations : Comic Maker
Commenced Comic Making : January 2009
Number of Comics : 2
Pronunciation : Sir Kong-goo-kop-iki of Bob-boob-a
Location : The Comic Land
Tools : Twin Matau Aero Slicers



Sir Kongukopeke of Bobooba
, also known as
Kongukopeke
or
KK
, is a comic maker on
BZPower Forums
.
BZPower History
Edit
KK joined BZPower in late 2008. He has made around 150 posts in his days.
Before Comic Making
Edit
Not much is Known about KK before he was a comic maker. All is known is that he spent a great deal of his life in The Comic Land.
In Philipnova's Comics
Edit
Kongukopeke got his start making comics with a Co-Author Comic for This series. It was deemed excellent with the members and author of the comic series. But was mistake ridden throughout, with characters being layered differently then what they were in the panel before, Dawn was missing the back of her hair, and Blade Titan974's villains made an unofficial appearance. KK was working on a second comic for the series before he stopped posting. He has since returned with his new comic.
He has since taken on the personality of the comic's resident Egotistic Matoran, more so then Tahu Nuva would ever be. He also served as a censor bar in in a daliy strip. Recently, he revealed to Phil that he has been to Steve Urkel's house an undisclosed amount of times. He also owns a mint condition 1981 model Delorean from the non-BZPower movie series Back to the Future.
In Phil's first Multi Author Series. KK replaced Vahi786 when the latter quit. He is joining Skorpyo, Gavla, Nuparurocks, Aquatic Lewa, Kahinuva, and Venom as well as Phil. KK has also made a banner for the series. He may end up being replaced due to his absence, though his character will still appear until a later date.
KK has also asked if he (and Kongu) can appear in this series. Phil has said yes and, if the topic was still open, he would include them in a future comic.
The idea has since been scrapped due to Kongukopeke's absence.
He is also making his own comic series. It's name will be Kongukopeke's Super Mega Awesome Comic Studios, Inc. It's still unclear when he'll release them.
Other Appearances
Edit
He has appeared as a PGS in the series owned by Vahi786 in seasons two and three, but was later dropped.
KK has guest starred in Gavla's Comics 3.0, And is set to guest star again in 4.0.
Ad blocker interference detected!
Wikia is a free-to-use site that makes money from advertising. We have a modified experience for viewers using ad blockers

Wikia is not accessible if you've made further modifications. Remove the custom ad blocker rule(s) and the page will load as expected.