---
Tahuri
BZPower Status : Premier Member
BZP Comics Wiki Status : Not a User
Number of Posts (BZP) : 1,196
BZP Occupations : Veteran Artist and Comic Maker
Commenced Comic Making : August 11, 2004
Number of Comics : 100+
Pronunciation : tah-hoo-ree
Location : California, USA
Tools : Adobe Photoshop CS3, Adobe Flash CS3, Adobe Illustrator
Tahuri
is a renowned comic maker, best known for helping
Metrukuta
develop the widely used 360-degree
RZMIK
sprites.
History
Tahuri joined BZPower on June 10, 2004; according to a recent topic, he started out with a supposedly embarrasing theory topic, through which he met Kotahn, a member of BZPower who he would later actually know in real life. Shortly after, he started comic making himself, with his original series garnering a fair amount of attention; they eventually died out in early 2005. He relaunched the comics in July 2005, but they had died by September of that year.
Tahuri

Species : Matoran
Comics : Various
Kanohi : Karahi, with eyepiece
Colors : Blue, white, black, silver
Element : Ice
Occupation : Various
Tools : N/A
Location : Various
Status : Alive
Pronunciation : tah-hoo-ree
Eventually, in June 2008, Tahuri and Kotahn both reintroduced their comics simultaneously; these new series incorporated new and unique Photoshopped grass which is now utilised throughout BZPower. This new version of Tahuri's Comics received an excellent run, but due to school, they were temporarily closed, and again reopened for Summer 2009, however despite the July-August BZPower downtime, Tahuri is still determined to make a few more comics.
Tahuri also planned out an entry into BZPower's Art Contest 16. He is mostly active in blogs, his own comic topic and in Turaga Dlakii's Comic Emporium.
Future Plans
Tahuri and Kotahn have been planning a new series entitled The Fantastic Five, based on a recurring concept from their comics, however it won't be out until at least Summer 2010.
There is also a small amount of discussion with Turaga Dlakii regarding unifying their three respective series - Tahuri's Comics, Kotahn's Comics and The Newsroom - into one universe and continuity, although said discussion currently consists only of one PM from Dlakii to Tahuri.
The Character
Recently, Tahuri has been/will be a character of some importance in six different series, only one of which (The Newsroom) is still running; he and Kotahn are both currently scheduled for eventual appearances in LIGHT and Superkid11's Comics. Other appearances have included his own works, Kotahn's Comics, Toranova's Comics. He is typically portrayed as being rather simple in personality, sometimes possessing a great sense of humor, and other times being somewhat egocentric. He wears a mask called the Karahi which, were he a Toa, would be capable of altering dimensions.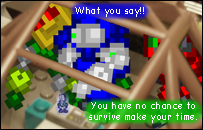 Tahuri was introduced in The Newsroom as a new recruit to Channel Billion Studios. Shortly after arrival, he, Kotahn and Lewajohnson were assigned to rescue Toranova from the Karda Nui swamp, departing aboard one of Dlakii's Tunnel Transporters; Tahuri piloted the craft. However, a bomb was detonated on board in mid-flight, sending the craft plunging into the Swamp of Secrets. While it fell, Lai sent a message indicating that he was behind the explosion.
Trivia
Tahuri appears to share Turaga Dlakii's views on the Chimoru kit, albeit not at such an extremity; he expressed his displeasure at making a Chimoru sheet for himself for Superkid11 in Turaga Dlakii's blog.
External Links
Ad blocker interference detected!
Wikia is a free-to-use site that makes money from advertising. We have a modified experience for viewers using ad blockers

Wikia is not accessible if you've made further modifications. Remove the custom ad blocker rule(s) and the page will load as expected.