Tapika (Character)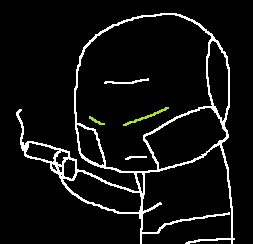 Species : Matoran
Comics : Private Eye Tapika
Kanohi : Kakama
Colors : Charcoal Grey, Charred red
Element : Fire
Occupation : Detective
Tools : Broom
Location : Taone Nui
Status : Alive
Pronunciation : ta-PEE-kah
This article is about the character Tapika. You might be looking for information on the real Tapika.
Tapika is a matoran of Fire. He is regularily out of a job.
Character overview
Tapika is most prominent in two seperate universes - the International ComicContinuity and the North-Western Isles Continuity. Both of them have a tendancy to do silly or stupid things. He was the creator of Toaster in I MADE THIS, his main appearance in the NWI universe. In the ICC universe he is regularily out of a job. In the Taone Nui Offline Game he is a sewer maintainer, and after that, he becomes a detective.
Cameos
Tapika once appeared in The Mercenus Chronicles, in a now entirely non-canon segment.
He has also appeared in Dark709's Comics, during his breif period of time he was cursed to be an EVIL Holy Chair. He stuck around for a bit.
Trivia
Tapika was the first character ever created by his namesake, Tapika.
He has been featured in many universes, owing to his creator's slow but steady popularity.
Tapika was once discontinued by his creator to focus on other types of series, but is now slowly coming back into use.
Ad blocker interference detected!
Wikia is a free-to-use site that makes money from advertising. We have a modified experience for viewers using ad blockers

Wikia is not accessible if you've made further modifications. Remove the custom ad blocker rule(s) and the page will load as expected.