The Editorialist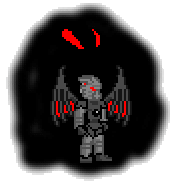 BZPower Status : Last seen January 30, 2008
BZP Comics Wiki Status : Not applicable
Number of Posts (BZP) : 3000+
BZP Occupations : Comic maker, creator of BIONICLE Radio, other things
Commenced Comic Making : 2/17/04
Number of Comics : 392 (including Rahksean, RPC, Plus-Rod and Hurricane Katrina comics)
Pronunciation : N/A
Location : Unknown
Tools : N/A
The Editorialist, also known as T-E or T~E is a BZPower member and highly influential comic maker who joined on November 2002. He is best known for his comic series, Psycho Dogs and Carbonated Beverages (formerly Barnicles), with Cee-estee being a notable author as well.
After many hundreds of comics by himself and his co-authors, he abandoned the series and has left BZP for unknown reasons.
In his comics, he had a good side depicted as an angel (as in most fiction) who is often coupled with his dark side. He is also depicted as a sane person who tries to keep sanity in his comics.
T-E has limited shape-shifting powers due to a sprite-changing incident.
T-E was also a Permanent Guest Star in Philipnova798's Comic Factory 2.0 until midway through the second season.
T-E was also notably supporting of the idea to send toys to children who suffered from Hurricane Katrina (a serious announcement unlike his usual humorous comics). You can see it here.
Style
T-E's original style was like most comics at the time, he used simple backgrounds made in Paint composed of two colors. However they soon evolved starting with Comic 53 of Barnicles which featured a good outside background (unlike a lot of other comics) and snowy backgrounds. The comics became popular.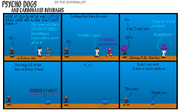 The famous studio gradient and wood pattern background was first introduced in Comic 198.
Eventually he started using word balloons, a better and smoother font and more enlarged Rayg sprites as well as a great sense of humor in each comic - insuring his fame.
External links
Ad blocker interference detected!
Wikia is a free-to-use site that makes money from advertising. We have a modified experience for viewers using ad blockers

Wikia is not accessible if you've made further modifications. Remove the custom ad blocker rule(s) and the page will load as expected.