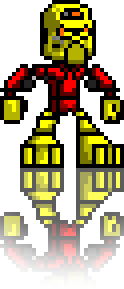 The Matoran Project 5
refers to a kit redesign by
Marty Razor Kirra
for the
Razor Sprite Kit
. Everything was redesigned for it to give it a more professional look, unlike the simpler, widely used original.
Versions
V1
V1 featured completely redesigned, better-shaded masks with a more professional look, set-based arms and a far better torso design, much less basic and square than the original. This made the Matoran taller which stood out better and made them more useful for serious comic projects.

V2
V2 was pretty much the same only with newer feet, a contribution by Dark709 which were slightly improved Chimoru Omega feet.
The kit was well received, being praised by people such as Dokuma.
Outcome
Surprisingly, despite the major improvements to the Matoran design, the kit failed to bring a lasting impression to comic makers, with most people sticking with traditional Razor Matoran. It has since been largely forgotten in the public mind.
However, the kit has received increased usage recently, which has given it more attention from BZP.
Link
Ad blocker interference detected!
Wikia is a free-to-use site that makes money from advertising. We have a modified experience for viewers using ad blockers

Wikia is not accessible if you've made further modifications. Remove the custom ad blocker rule(s) and the page will load as expected.