The Swift Times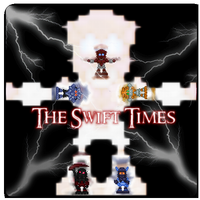 Genre : Comedy
Written By : Venom
Current Season : 1
Location/Setting : Forest
Starting Date : January 1, 2010
Sprite Kit : RZMIK
Status : Dead
The Swift Times was a comic series by Venom, released on January 1, 2010 after his decision to close the cult classic series ~V~. Considering the success of ~V~, The Swift Times is comparatively unpopular to it but nonetheless provides a new aim for humor for the author.
However ~V~ was still hosted and continued in The Swift Times topic.
The Swift Times soon died after Venom took retirement. Soon enough, he went out of retirement to continue comic-making following the re-opening of the ~V.3~ topic.
Style
The series is notable for its casual style. Unlike many other comic series, there isn't much action or particularly "exciting" events. Instead it is only based on the titular character Swift and his friends discussing funny memories, being imaginative over a campfire, or just acting humorous. The series uses a flashback-style humor, with each character's thought being different, according to what happened in their memory or would do if it were imagination.
Cast
Swift - The host and main character.
Clara - The pretty girl.
Rapid - Swift's best friend.
Felix - The slightly ignorant and fun-loving character.
Syke - The psychopathic Grim Reaper-like character who despite this, maintains a calm behavior throughout, with frequent laughs and an occasional angry "Grrr." when being outwitted by the others.
External links
Ad blocker interference detected!
Wikia is a free-to-use site that makes money from advertising. We have a modified experience for viewers using ad blockers

Wikia is not accessible if you've made further modifications. Remove the custom ad blocker rule(s) and the page will load as expected.