Toa11's Comics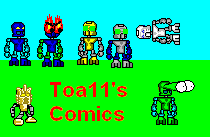 Author(s) : Toa11
Current Season : 2
Medium : Chimoru Six-Shade
Island : Unknown
Main Enemies : To Be Named
Number of Movies : None
Started On : July 13, 2010
Location : A field
Status : Active
Pronunciation : N/A




Toa11's Comics is a comics series made by BZPower and Biosector01 member Toa11 a.k.a. Eleven. It uses Dark709's Chimoru kit.
History
Much like Biocryptid21's BS01 Comics and Shadonix's Comics, this comic series started on a BIONICLE wiki called BIONICLEsector01. Eventually, the author made an account on BZPower and posted his comics there on July 13, 2010.
On Wednesday, April 27, 2011, Toa11 announced that he would be making a movie for his comics. This was released on the BIONICLEsector01.
Plot
Eleven, the alias of Toa11, is seen standing in infinity. A spriteless friend (supposedly Tahli, his sister) convinces him to get sprites. A running joke is that Latii (when angry) will fire her lazer at Fred (Eleven's little brother). The comics will supposedly get better, as Toa11 is learning GIMP.
Characters
Eleven (Toa11)
Tahli
Latii
Takua
Fred
Teeno
Daniel
Lewa
Reptor Vahki
Terton the Many
Spawn of Teridax
Trivia
The comic's slogan is "Thirteen Characters. One Insane life. Comic's of a GIMP Noob (or Toa11's Comics), breaking reality, one GIMP effect at a time."
External Links
Ad blocker interference detected!
Wikia is a free-to-use site that makes money from advertising. We have a modified experience for viewers using ad blockers

Wikia is not accessible if you've made further modifications. Remove the custom ad blocker rule(s) and the page will load as expected.