Travels with Gavla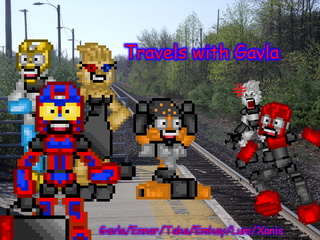 Author(s) : Gavla
Current Season : 2
Medium : Xaniskit
Island : N/A
Main Enemies : None
Number of Movies : 0
Started On : August 30, 2009
Location : Wherever Gavla Is
Status : On Hiatus
Pronunciation : N/A
Travels with Gavla is a comic series created by Gavla as a spinoff of Galva's Comics. It details Gavla's journey as he takes a trip across the country.
The series has ended its first season, and reopened on April 18, 2010 for another one.
Story
Season 1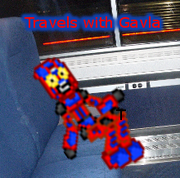 The comics start out with everybody leaving for the train. On the train, Zippy bores Gavla out of his mind. When they reach Chicago, those present promptly abandon Kothra at the Field Museum. Meanwhile, Zippy and Arc go out, and find a dress made out of $100 bills. During Arc and Zip's money spending time in the mall, Gavla and Taka enjoy some alone time with ice cream in Gavla's room on the train. After the group meets up, the head off for another night together. With Zip annoying Gavla with a dress she bought. Once in New Mexico, as Gavla stated "Really, all we did was stay inside and take photos." The only real event of that week was a Balloon party. A HOT AIR BALLOON party. Gavla has marked that a special comic will be made for it. Though when it will be out is unknown. With New Mexico done, the friends head off for Chicago! Or so they thought. The train arrives, ON FIRE. Well, it was. After a six hour delay, it is shown that Gavla and Zippy sleep "together" (with Gavla on the floor) On the train, but Taka And Gavla sleep next to eachother in hotels as shown when the group stays in Chicago. The next day, the friends meet Jinny. One of Gavla's friends from BZP. And thus starts the trip to North Carolina...
On Saturday, the friends depart before Gavla's trip. As Taka Nuvia and Gavla hug, Gavla realizes that Taka had in fact, stolen his wallet, ending the first season.
Season 2
Season 2 begins with Gavla waiting at the train station alone, only for Nuparurocks to show up with a pink bowling ball. After revealing he is able to pay for his train room, he joins Gavla on the trip.
Concept
Travels with Gavla is unique in that it takes place while Gavla is taking a trip in real life. The backgrounds used to make it are pictures that he took wile on his travels. Gavla also will only have it open when he is on a trip, and will temp-close it when he is not.
Characters
Season 1
Zippy
Arcanae
Jinny/Nerd Girl Toa/FI
Season 2
Trivia
Gavla takes a different set of characters each season.
Links
Ad blocker interference detected!
Wikia is a free-to-use site that makes money from advertising. We have a modified experience for viewers using ad blockers

Wikia is not accessible if you've made further modifications. Remove the custom ad blocker rule(s) and the page will load as expected.