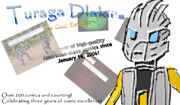 Turaga Dlakii's Comic Emporium is a name applied to two separate topics on BZPower Forums. In this topic, the various comic works of Turaga Dlakii are hosted, rather than each being in their own individual topic; this, though seemingly a ploy to net more posters, merely simplifies work for Dlakii by ensuring he doesn't have to look after two or three comic topics at once, and saves strain on BZPower's server.
History
Turaga Dlakii's Comic Emporium was first opened on June 10 2006, following the conclusion of The Unknown Turaga and the requested closure of that topic. It introduced the BZPower public to The Newsroom for the first time, despite the series being in development for several months previously, and also marked the beginning of The Unknown Turaga II: Land of Dragons. It was welcomed warmly by reviewers, commenting on the then-unique idea of a multi-series topic.
The Comic Emporium lasted until July 17 2007, at which point the topic died in the downtime of BZPower. It had received a total of 238 posts.
Turaga Dlakii's New Comic Emporium
After the downtime of BZPower ended on July 21 2007, Turaga Dlakii found the topic dead, and instantly started its successor. Like the old topic, Turaga Dlakii's New Comic Emporium was immensely well-received, establishing a trend of a massive opening week for topics. In its final days, the topic is still going strongly, and has recently been the subject of an inexplicably massive spike in popularity. However, the topic was closed soon after Dlakii was banned.
Series Currently Hosted in Topic
External Links
Ad blocker interference detected!
Wikia is a free-to-use site that makes money from advertising. We have a modified experience for viewers using ad blockers

Wikia is not accessible if you've made further modifications. Remove the custom ad blocker rule(s) and the page will load as expected.