Ultionicle Studios V 2.0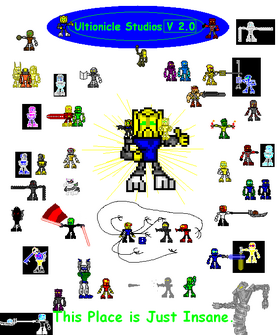 Author(s) : Ultiamas
Current Season : 2.0
Medium : Chimoru Omega
Island : The Comic Land
Main Enemies : Darkness
Number of Movies : 0
Started On : Apr 26 2008
Location : Ultiamas' Comic Studio
Status : Dead
Pronunciation : "N/A"
Ultionicle Studios V 2.0 was a comic series made by Ultiamas as a successor to the original Ultionicle Studios. It was set primarily in a comic studio and featured the random adventures of Ultiamas and his PGses and co-authors. The series became popular with the topic length reaching 13 pages with a total of 29 comics. It was abandoned for unknown reasons, perhaps the same that Ultiamas did not post in VakamaTK's Comics (as he was a PGS at the time) for six months, perhaps others. However, Gatotak is making an attempt to keep it alive.
Co-Authors
Kaboutops Man
Toa of Rahi
Toa Dovydas
PGS List
1. ~Kaboutops Man~ (Gatotak)
2. ~Toa of Rahi~
3. Khols
4. Justax-Kal
5. Toa Dovydas
6. Zakitano
7. Toa Inika Nuparu Rules (TINR)
8. Dark709
10. Jahli
11. tohunga vezon and kar
12. Gavla
13. Sylux (now ExDee)
14. Takanuva Toa of Twilight
15. vaders apprentice
16. jaller_mahri
Kits
Awards
Ultionicle Studios V 2.0 has won the Gavla Award and Haku340 Comic Maker Award.
Trivia
This series was known for its use of every single character in Dark709's Comics.
Other Links