Vahk may refer to three RZMIK-based comic series, each authored by Vahkoro.
The Comics

Vahkoro: Behind the Mask or VAHK: BTM for short was a multi-author comic series started on December 17, 2007 by Vahkoro, Venom, Cal and JediBot. It used the standard sprite grass background, but nonetheless was above average graphically. The series used RZMIK and featuring various recurring/unique jokes, including the popular flying insects who shouted out "CHOCOLATE LAPIZ!" and as such were named that.
Reception was positive with the topic gaining ten pages, making it Vahkoro's most successful series to date and there were plenty of PGS/GS's but it later died after the 100th comic. This is also the only comic in the Vahk series that is a MAS.

VAHK ~~2~~, also without the tildes is the second comic in the Vahk series, starting on July 8, 2008 with Vahkoro's usual character cast consisting of himself, Wikiea, Francis, Iruini, Frankfurt and this time a new character, Flammable, the latter serving as a stereotypical comic villain, who in one instance disemboweled Vahkoro but later was saved by -JM-.
The series gained 3 pages and had various guest stars, including Eljay: Toa of Mangosteen, Hojirick and Sylux. It gained three pages and had 18 comics. Its lifespan lasted for about three months. VAHK ~~2~~ also introduced Vahkoro's current form in Comic 13. Shortly after his next series 003, Vahkoro was banned per request.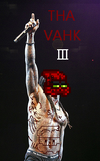 Tha Vahk, also known as Vahk III. It is set in Good Beetz Inc., a fictional recording studio. It was started on March 22, 2010 after the extremely unsuccessful Free Weezy and Vahkoro's second series after his unbanning. It is the most unsuccessful of all his Vahk comics so far, currently having only seven replies and two comics.
External links
Ad blocker interference detected!
Wikia is a free-to-use site that makes money from advertising. We have a modified experience for viewers using ad blockers

Wikia is not accessible if you've made further modifications. Remove the custom ad blocker rule(s) and the page will load as expected.