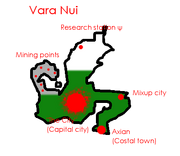 Vara-Nui
is the home of
Janaro Oliver
and his friends, and one of the many settings of
Janaro's Café
and the
Taone Nui Offline Game
. It was, for many years, part of the
Meta-Nuian
Empire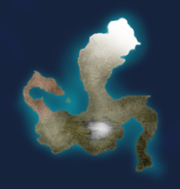 .
Locations
Edit
Vara-Nui is located directly north of Taone Nui and south-west of Scrui-Nui. It has many areas within it.
Frosted Tip
Edit
The northernmost point of the island if covered in ice and snow. It is a desolate wasteland, apart from a few research stations, the most prominent of which is research station "Psi".
The Plains
Edit
The plains are a large, flat area of grassland, on which most locations on Vara Nui are built.
Vara-City
Edit
Vara-City is the only large city of Vara-Nui, other than a few small villages. Its government; Turaga, Bruma; Janaro and The Anonymous Institute reside within its limits.
Ad blocker interference detected!
Wikia is a free-to-use site that makes money from advertising. We have a modified experience for viewers using ad blockers

Wikia is not accessible if you've made further modifications. Remove the custom ad blocker rule(s) and the page will load as expected.